Library Resources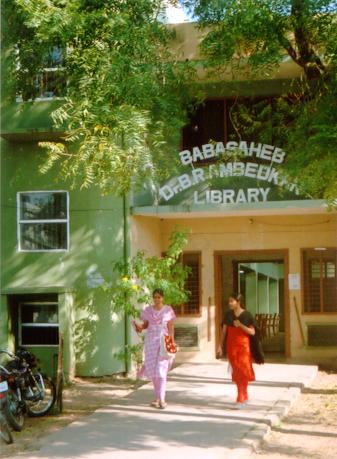 BABA SAHEB Dr.B.R.AMBEDKAR Library
The Central Library began its existence in 1946. Since then, it has grown in size and content along with JNTU College of Engineering, Kakinada to take the present shape. All these years, it has been the life line for the academic activity of the institute. At present, it stands as a model library.
Central Library services the academic needs of about 3000 UG and PG students, research scholars and nearly 100, faculty members, technical and administrative staff of our institute.
Reading hall Reference section
Reading hall Reading hall
The Library resources stand at about 54000 volumes including text books and reference books. The journal subscription goes beyond 10.
The library collection also includes a large section of expensive reference books, a large number of text book collection meant to cater for the courses running in the institute and a collection of books ear-marked for BC/SC/ST students.
The central library has been catering to the needs of the under graduates, post graduates students, research scholars, faculty and staff members of the 9 departments. The book collection has been supporting the teaching, research, development and other professional activities of these departments. The demands of the ever-growing research areas in multiple disciplines are being catered with the help of latest volumes, in almost all fields of engineering, Science, Technology and general areas.
The library presently occupies a spacious two storied building.
The college library provides special services like current awareness services, selective dissemination of information along with the normal services like reference, referral, literature searching and bibliographic data services.
Working days : All working days except national holidays
Working hours : Monday to Saturday :9 AM to 9 PM (12 hrs.)
Sunday :9 AM to 1 PM
Collection and Resources:
The library collection consists of over 54000 volumes. The collection consists of books, conference proceedings, back volumes of periodicals, CD-ROMs, Floppies.
Books classification:
The books are classified and arranged according to Dewey decimal classification. Each row of the stack has been labeled with the range of class numbers in the corresponding row.
Reference collection/ Electronic collection:
The reference collection consists of encyclopedias, Dictionaries, Hand books etc., housed in ground floor in special reference room.
The brochures, pamphlets, news letters, gifted periodicals, annual reports, institute publications are kept adjacent to the reference section.
E collection consists of CD-ROMs, Floppies.
Staff:
* Dr.S.S.Tulasi Ram ,
Professor & Head (EEE)
Officer In-charge of Library
1. V.Ramachandraiah (Assistant Librarian)
2. K.S.R.K.A.Patnaik (Assistant Librarian)
3. V.Narasimha Rao (Junior Assistant)
4. P.Appa Rao (Mechanic)
5. K.Srinivasa Rao (Artisan)
6. G.S.P.Mukharjee (Attender)
7. N.Vijay Kumar (Attender)
8. S.V.Ramana (Attender)
9. D.Abbulu (Attender)