National Cadet Corps (NCC)
BRIEF HISTORY OF THE UNIT
9(A) Air Sqn (T) NCC, Kakinada was raised on 01 July 1965. Originally it was known as 7(A) Air Sqn (T) NCC. Subsequently during re-organisation and disbandment of certain NCC Units under Andhra Pradesh NCC Directorate in 1977-78, the Unit was thereafter named as 9(A) Air Sqn (Tech) NCC under NCC Group Hqs Kakinada. This Unit is located in the JNTU Engg College Campus, Kakinada.
Presently this Unit is providing NCC coverage to the following Educational Institutions as open unit:
(a) JNTU Engg College, Kakinada
(b) P.R. Government College, Kakinada
(c) Andhra Polytechnic College, Kakinada
(d) Ideal Degree College of Arts & sciences, Kakinada
Further, there are TWO Junior Division Troops with a strength of 100 each drawn from the ZPHS, Mallam and KPDT High School, Eluru, West Godavari District.
The unit is presently commanded by Wg Cdr G Srinivas and the Adm and Adjutant duties are looked after by MWO Shahid Ali. The Admin support to the unit is provided by AF Stn Begumpet and Group Head Quarters Kakinada. The Gp Cdr of Kakinada Group is Col PV Mohan.
The following Associated NCC Officers drawn from teaching staff from affiliated institutions assist the unit in under taking training activities:
(a) NCCA/11294 Flt.Lt. T.Shyamsunder Ideal College
(b) NCCA/1130002 Fg. Offr. V.Srinivasa Rao APT College
(c) NCCJA/100232 IInd. Offr. SP Lakshmipathi KPDT High School
(d) NCCJA/01230021 IIIrd Offr Chandrasekhar ZPHS Mallam
NCC ACTIVITIES
GROOMING TOMORROW'S LEADERS
Besides its institutional training, adventure activities, youth exchange programmes and sports, the unit also organizes community development activities to make our young people conscious and sensitive to the needs and problems of their fellow countrymen, as also to contribute meaningfully to enriching the community life. Some of the major activities are blood donation, adult literacy, anti-dowry, anti-leprosy, anti-drugs, tree plantation, eye donation, community projects and work in Cheshire Homes. The NCC also duty bound to render assistance during natural calamities.
AIMS

TO DEVELOP CHARACTER, COMRADESHIP, DISCIPLINE, LEADERSHIP, SECULAR
OUTLOOK, SPIRIT OF ADVENTURE AND THE IDEALS OF SELFLESS SERVICE AMONGST
THE YOUTH OF THE COUNTRY.

TO CREATE A HUMAN RESOURCE OF ORGANIZED, TRAINED AND MOTIVATED YOUTH,
TO PROVIDE LEADERSHIP IN ALL WALKS OF LIFE AND ALWAYS AVAILABLE FOR THE
SERVICE OF THE NATION.

TO PROVIDE A SUITABLE ENVIRONMENT TO MOTIVATE THE YOUTH TO TAKE UP A
CAREER IN THE ARMED FORCES .
CARDINALS OF DISCIPLINE

Obey with a smile.

Be punctual.

Work hard and without fuss.

Make no excuses and tell no lies.
ACTIVITIES NCC OFFERS :
To the Students :
· An excellent opportunity to get acquainted with the services.
· A chance of a lifetime to get trained in scores of adventure activities.
. A training ground for acquiring iron-will and impeccable discipline.
· Participation in dedicated teams in service to the nation.
· Hundreds of Scholarships to those who excel in all activities, ranging from
academics to adventure.
· Opportunity to travel abroad.
· No military service liability.
To the Teachers :
· Status of service officer without military service liability.
· Opportunity to lead cadets into performing social service, adopt finer values
in life and become better citizens of the country.
· Opportunity to take part in adventure activity.
· Opportunity to travel abroad.,
· Honarary commission after retirement upto the rank of Lt. Col. In deserving
cases.
Training :
· The unit imparts two broad types of basic training, the Institutional and Camp.
· The NCC Training syllabi prepares the Cadets for three Progressive Certificate
· Examinations. 'A' Certificate is fro the Junior Division/ Wing Cadets.
· 'B' and 'C' Certificates are for the senior Division/ Wing cadets
Camps the unit cadets participate:
. Annual Training Camps (Both for Boys and Girls)
. Attachment Training Camps
. Basic Leadership Camps
. Vayu Sainik Camp
. Rock Climbing Camp
. National Integration Camp
. Social Service
. Republic Day Camp and Prime Minister's Rally
. Adventure Activities
COMMUNITY DEVELOPMENT
NCC has adopted community development activities with the aim of imbibing amongst cadets selfless service to the community, dignity of labour importance of self help, need to protect the environment and to assist weaker sections of the society in their upliftment. This was envisaged through programmes involving adult-education, tree plantation, blood donation, visit to Old Age Homes, slum clearance, village uplift and various other social schemes. NCC cadets participate in the following community development activities:-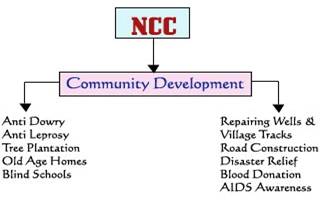 (a) Anti Dowry: Besides spreading awareness, NCC cadets take a pledge not to accept or encourage dowry system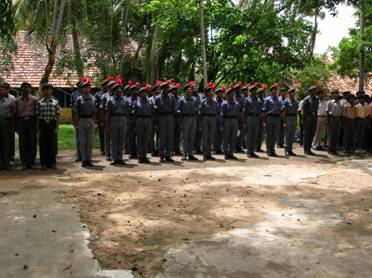 (b) Anti Leprosy Drive: NCC Cadets have launched anti-leprosy drive throughout the country and are helping various voluntary Governments Organisations.
(c) Tree Plantation: NCC cadets plant sapling and look after them in conjunction with the concerned State Department.
(d) Old Age Homes: Old Age Homes in the country are patronized and regularly visited by NCC cadets.
(j) AIDS Awareness: NCC Cadets also participate actively in the AIDS awareness programme.
ACHIEVEMENTS
* Many cadets have participated in various national level camps:
(a) RDC 2004-2005 ( 26 Jan 2005)
(b) VSC Oct 2004
(c) NIC Varanasi
(d) VSC Final Camp (18 Oct 05 to 29 Oct 05)
(e) RDC Final (2005-2006)
(f) NIC Ujjain (19 Nov to 30 Nov 05)
(g) NIC Tirupathi (09 Jan to 18 Jan 06)
(h) Kerela Trek (07 Jan to 20 Jan 06)
* Stephen Vaidya of JNTU College receiving Raksha Mantri Commendation for bravery during Republic day celebrations on 26th January 2005 from Sri. Pranab Mukherjee, Defence Minister.